Dynaire Preventative Maintenance Plan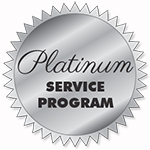 A Service agreement ensures that you will receive prompt service, labor and material necessary to repair, adjust or replace parts of equipment within contract in order to maintain proper operating condition thus, lowering the cost of ownership. The Dynaire Preventative Maintenance Plan will:
Extends the life of equipment.
Prevents costly repairs and premature system failure.
Ensures the system is working at maximum efficiency, lowering energy costs.
Reduces the risk of winters without heat.
Dynaire will perform inspection at least TWICE during contract period. Dynaire will advise of any problems identified.
Note: Customers will not be charged a service fee during regular business hours.
Contact Us today to learn more!
Cooling Start-up
Inspect thermostats.
Inspect electrical connections.
Check contacts for proper operation.
Check for visual signs of oil/refrigerant leaks.
Add required refrigerant (if system is free of leaks).
Check compressor temperature and pressures.
Check motors and bearing, lubricate as necessary.
Inspect and clean condensate drain lines, condensate pumps and pans.
Inspect evaporator and condenser coils.
Check filters (replace from site stock, if required).
Check belts for replacement (replace as required)
Cooling Shut-down and Heating Start-up
Blow out condensate drain lines.
Inspect thermostat.
Check burner & heat exchanger for cleanliness.
Check temperature differential
Check hot water circulator pump operation
Lubricate motors, pumps and bearings
Check burner operation & pilot ignition as required
Inspect electrical connections, tighten as required.
Check filters (replace from site stock, if required).
Check belts for replacement (replace as required)