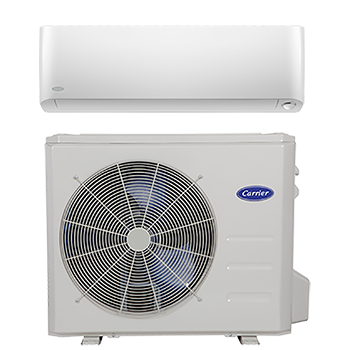 Duct free air conditioners make your home's individual rooms or other small spaces more comfortable. Remember, just like whole-home systems, the higher the SEER and HSPF ratings, the more efficient they will be.
We offer a variety of through-the-wall packaged terminal air conditioners (PTAC) and duct free heating and cooling systems to meet any individual room's needs.

Ductless mini-split heating and cooling systems are energy efficient and ideal for homes where ductwork is difficult or impossible to install. Unlike central air conditioning systems, the installation process of a ductless mini-split is easy and requires little space. Homeowners can also customize comfort in every room with heating and air conditioning zone control.
More About Ductless Mini-Split Systems:
COMPONENTS
Discrete wall mounted blowers.
Condenser and compressor located outdoors.
Refrigerant line (thin copper tubing) runs directly to the blower.
Provides efficient cooling in summer and heating in winter.
USES
Heating/cooling spaces not connected to an existing system.
Individual zoning
Ductless areas
BENEFITS
Easy Installation
Year round whole hoe/business comfort
Separate temperature control.
Energy efficient